Here's another one of those ideas that I just can't get out of my head. I had a conversation with my Dad about his birthday and that is what brought this on. Though my Dad isn't a big fan of Monopoly, I thought this was funny. I had fun challenging myself and making it.
This inside reads "Just in case the saying The older you get the crazier you get" is true.
I wish my handwriting was better. That would help improve the look of this card. I'm a work in progress.
It was fun using my markers in a way that I haven't tried before. Makes them that more versatile I think. There are some links below for the Studio Blick Brush Markers. They are good quality and have a variety of colors. Some differences from the Copics for sure but each marker brand has slight differences.
This card had been entered into -
Simon Says Stamp Wednesday Challenge
<--- Click to see all entries
Copic Sketch Markers Used
E00 Skin White
YR00 Powder Pink
E81 Ivory
W0 Warm Gray
W3 Warm Gray
W9 Warm Gray
100 Black
Y15 Cadmium Yellow
Y35 Maize
YR04 Chrome Orange
R05 Salmon Red
00 Colorless Blender
Dick Blick Markers Used
058 Warm Gray %60
More Info Below
Below is a supply list I have compiled for your use. All links below are personalized links. By clicking on the below links you are helping support me and this blog, at no extra cost to you. But only if you decide to purchase a product I list.
I only link to products that I love and use. This will not increase the amount you pay. Thank you so much for visiting and all comments are appreciated!
Bright Pad - $79.99
from:
Cricut
Simon Says Stamp
80LB
110LB
Dick Blick
This company has a great Copic marker alternative @ $3 a piece not to bad. Also some great set sizes too.
Blick Studio Brush Markers and Sets - $2.98


Blick Studio Brush Markers are a line of high-quality yet affordable brush markers for artists in all areas of graphic design and illustration. Water-resistant and fade-resistant they feature a brush tip on one end and a durable chisel tip on the other end.
Blick Studio Brush Markers and Sets - $19.32


This is a good starter set of bright vibrant colors. It includes Black Red Dark Green Canary Yellow Ultramarine Violet Dark Umber Pink Very Berry Orange Bright Green and True Blue in a flexible plastic pouch.
Blick Studio Brush Markers and Sets - $63.57


This set includes Black Cool Gray 50% Bright Green Dark Green Leaf Green Apple Green Ink Blue Light Cerulean Blue True Blue Ultramarine Periwinkle Violet Red Very Berry Pink Brick Red Dark Umber Dark Brown Sienna Caramel Peach Orange Saffron and Canary Yellow in a box with a plastic tray.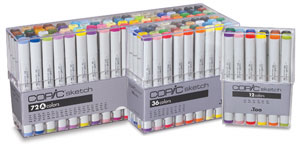 Great Copic Prices too!